Disclaimer: there are affiliate links in this post, meaning at no additional cost to you, we will make a commission if you click through and make a purchase.
Online business-y things aren't everyone's forte
Do you hate social media marketing? Email writing? Market research? Proofreading? Do you wish that you could just pass it off to someone else who would enjoy it more?
Guess. What.
That's entirely possible. There is a place that you can go to get all of those tedious tasks taken care of in a timely manner – without breaking the bank!
That's right, I'm talking about Fiverr.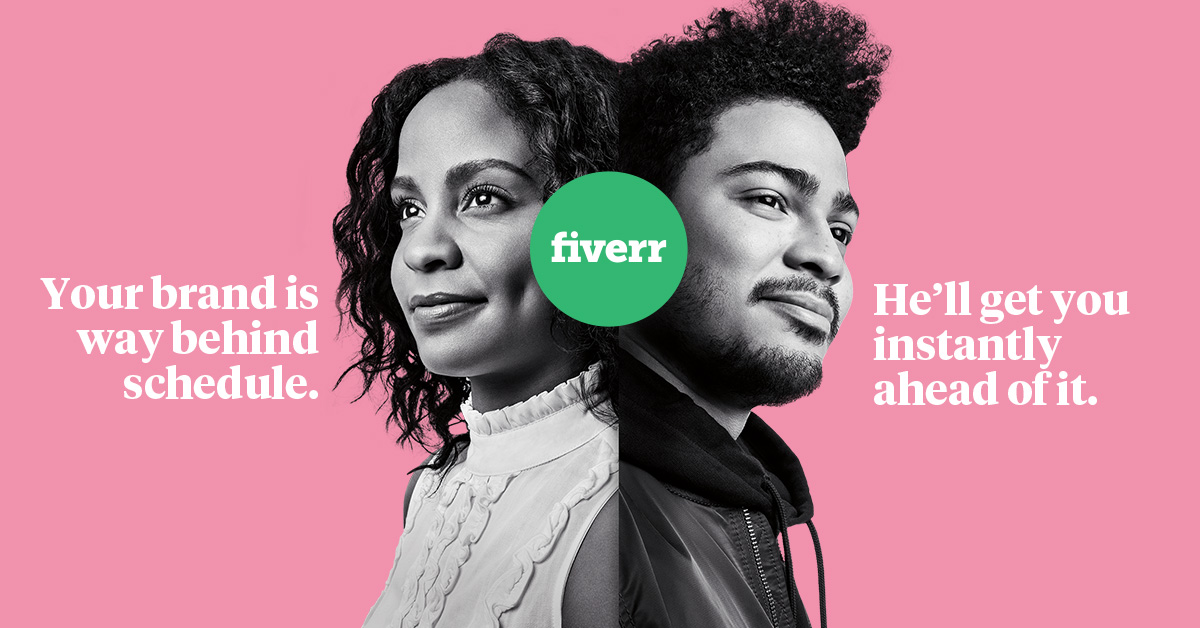 Fiverr is an online marketplace made up of freelancers; anyone can search for and hire the right people to complete small one-off jobs and virtual tasks. There are thousands of freelancers offering everything from logo design to voice-overs, e-commerce marketing and sales copy.
Check out Fiverr here
How does it work?
Each freelancer creates specific jobs on their profile called a "gig" that outlines exactly what they can do, and at what price. They often include images showcasing previous work that they have completed and/or a short video explaining their gig; some freelancers include small PDF files with detailed descriptions of their offers or information about past works.
The freelancer usually includes a description underneath the images that outlines the specifics of their offer, including extra features that may be available with the purchase of a premium package.
Three-tiered pricing structure
Fiverr prompts freelancers to create a three-tiered pricing structure to diversify their offering and make it easier for buyers to find the right fit for their company. Oftentimes the delivery time will increase along with the price, but the features that one can get at a higher price point are usually worth the wait.
Want to see this exact gig? Click here!
Read the freelancer bio
Each freelancer writes a short bio of themselves and their experience. Fiverr provides supplementary information such as when they first joined Fiverr and their average response time. This is helpful because it means you can skip over the freelancers who do not get back to you in a timely manner!
Compare each package side by side
If you prefer side-by-side pricing and feature comparisons, you just have to scroll down the page. Below the freelancer's bio is a comparison of the packages along with information on how much it would cost for gig extras. In the case of this particular gig, faster delivery time is being offered by the freelancer as a gig extra, at a cost.
Have a question? Check the FAQ section!
Most freelancers will include a FAQ section that provides answers to the most popular questions that they have received. If you have a question about the gig but haven't been able to find an answer in the FAQ section, send them a message!
Freelancer quality
After the final version of a work is delivered to a buyer, the buyer has the option of rating the freelancer out of five across three different categories. They can also include a short written review that will show up on the freelancer's profile under the relevant gig.
Want to see this exact gig? Click here!
What can I get done on Fiverr?
SO. much. There are 8 different categories:
Graphics & Design
Digital Marketing
Writing & Translation
Video & Animation
Music & Audio
Programming & Tech
Business
Lifestyle
The variety doesn't stop there – there are 37 different subcategories under "Graphics and Design" alone!
Posting a request on Fiverr
If you want to avoid schlepping through pages upon pages of freelancers, post a request, and let them come to you! Don't worry, posting a request for offers will not mean that you will be bombarded by every freelancer out there.
Instead, when a buyer posts a request in a category that is relevant to what they want to be done, only the freelancers who currently offer gigs in that category will be able to see and respond to your request. After a certain number of offers are received, the request will disappear from view and you will be able to pick which freelancer you think will be the best.